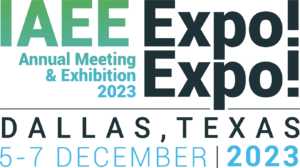 2023 Expo! Expo! Chapter Reception
From: December 6, 2023 to: December 6, 2023
From: 5:30 PM to: 7:00 PM
Location:
Omni Dallas Hotel
Southside 1
555 S Lamar St, Dallas, TX
75202
United States
Join Us in Dallas for our annual chapter GRITZ reception!
Spend some time with your Southeastern chapter colleagues. Limited drink tickets are available for Southeastern chapter members. We hope to see you there!
It's ALL ABOUT YOU…and it's time to REIMAGINE YOUR EDUCATIONAL JOURNEY!

Are you ready to commit to personal excellence and the development of your skills and expertise? Exhibitions are all about face-to-face connections. Expo! Expo! IAEE's Annual Meeting and Exhibition brings the exhibitions ecosystem together for their mutual benefit through content, community and connections.
Expo! Expo! education is an opportunity to embrace learning, taking advantage of the opportunities to challenge and shift your mindset, engage with others, explore new possibilities and innovative ideas while advancing your personal and professional growth and development.
Through unique and innovative learning environments, you'll be able to join your industry peers, hearing from experts in their field of content, fostering collaboration and sharing ideas while making meaningful connections.
Come ready to learn and be inspired by joining us in Dallas, Texas for an amazing and unforgettable experience and expand your horizons and knowledge!